Nov 04 2011
The Sandhopper is the shallow draft version of the Squib Keelboat designed by Oliver Lee.
She has the same delightful handling qualities as the Squib, being feather light on the helm at all times and has the added advantage of being able to lay safely on exposed moorings which dry out at low tide, with its lower draft and GRP twin bilge keels.
The underwater lines of the hull are as fine as possible to give good performance in light airs and the sections above the water line are flared out to a generous beam of 1.87m (6'2″) combined with a ballast ratio of 55% gives ample stability and power to carry full sail in the strongest of winds.
The mast can be stepped and rigged by two persons without crane aid and with an all up weight of around 740kg. Can be easily towed behind the average family car.
DIMENSIONS Sandhopper
Length 5.79m (19'0")
Length W.L. 5.26m (17'0")
Beam 1.87 (6'2")
Draft 0.69m (2'3")
Cockpit. 2.13×1.17m (7′x3'10")
Displacement 700Kg
Ballast ratio 55%
Mainsail area. 8.64 sq.m
Genoa. 7.14 sq.m
Spinnaker 15.5 sq.m
Want to see what they are really like, then check out this action!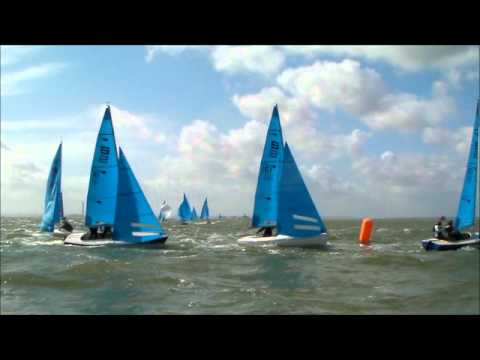 Comments Off